(1) Albert Burton (Burton) Smith, son of Albert Ira Smith and Hattie Tryphena Ruggles, was born on 20 Mar 1917 in Wilmar, Los Angeles, California and died on 12 Apr 1987 in Covina, Los Angeles, California at age 70.
Burton married Edna Dellilia Cleland, daughter of James Gilman Cleland and Audra Valetta Moye, on 26 Jan 1941 in Baldwin Park, Los Angeles, California. Edna was born on 4 Aug 1920 in Baldwin Park, Los Angeles, California and died on 27 Jun 2004 in Salem, Marion, Oregon at age 83. They had four children: Gilman Burton, Gail Lynn, Jacqueline Edna, and Nathan Ralph.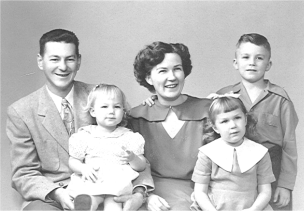 Burton and Edna Cleland Smith
with children Gilman, Gail and Jackie

Burton and Edna Cleland Smith
with children Gail, Jackie and Nathan
(2) Gilman Burton Smith
Gilman married Stephany Ann Libin Grabenhorst, daughter of Herbert B Libin and Shirley Margaret Maxwell and step-daughter of George H Grabenhorst Jr. They had three children. They were divorced.
(3) Colin Burton Smith
(3) Aden Maxwell Smith
Aden married Kimberly Michele Hill, daughter of Martin Phillip Hill and Sheryl Lynn Peters. They have two daughters: Ellery Qwin Smith and Sydney Maxwell Smith.
(3) Devon Michele Smith
Devon married Jeremy Patrick Toomey, son of Dennis Toomey and Lorilee Secrist. They have two biological sons: Heath Smith Toomey and Brooks Woodrow Toomey and one adopted son Bowen Aleksandar Toomey who was born in Serbia.
(2) Gail Lynn Smith
(2) Jacqueline Edna Smith
Jacqueline married Trey Anderson. They had two children:
(3) Emily Elizabeth Anderson
Emily married Eric Linauer. They have two children: Hezekiah Boaz Linauer and Annaliese Selah Linauer
(3) Christina Nicole Anderson
(2) Nathan Ralph Smith
Nathan and Terri Miller had one son:
(3) Tyler Ryan Smith
Tyler married Chelsea Jane Galano. They have one son: Oliver Charles Tennyson
Nathan married Lisa Jo Smith. They had one daughter:
(3) Audra Kelli Smith
Audra married Takenori Justice.