Governor apologizes for eugenics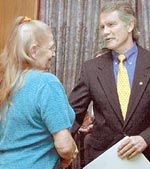 KOBBI R. BLAIR / Statesman Journal
Velma Haynes of Portland thanks Gov. John Kitzhaber on Monday at the Capitol for apologizing for the state's use of forced sterilization.
KOBBI R. BLAIR / Statesman Journal
Gov. John Kitzhaber stands with Ruth Morris, who was forcibly sterilized while she lived at Fairview Training Center between 1965 and 1972.
Oregonians' hearts go out to victims of forced sterilization, Kitzhaber says.
LAURENCE M. CRUZ
Statesman Journal
December 3, 2002

At a Capitol ceremony packed with victims and their advocates, Gov. John Kitzhaber apologized Monday for the state's past practice of forcibly sterilizing people in its care.
Kitzhaber became the second governor in the nation to formally apologize for a state's practice of eugenics, the movement that spawned involuntary sterilization laws in 33 states in the first quarter of the 20th century.

"The time has come to apologize for misdeeds that resulted from widespread misconceptions, from ignorance and from bigotry," Kitzhaber told the crowd of about 80 surviving victims, their caregivers and advocates, as well as a throng of reporters and TV crews.

"To those who suffered, I say the people of Oregon are sorry," said the Democratic governor, who leaves office at the end of the year. "And our hearts are heavy for the pain that you endured."

Kitzhaber also designated Dec. 10 as Human Rights Day in Oregon, in celebration of the state's commitment to human decency and personal freedom, he said.

At least 2,648 people were sterilized in Oregon between 1917 and 1981, most while in state care. Many, such as Velma Haynes, 68, of Portland, were patients at Fairview Training Center in southeast Salem at the time. "Although it can never take the pain away, your apology is gratefully appreciated and accepted," said Haynes, who was was sent to Fairview at age 2 and sterilized at age 15 as a condition of release.

Proponents of eugenics sought to breed a better human race by preventing those with traits they deemed undesirable from having children. The practice targeted a broad range of individuals, from the disabled and the epileptic to criminals, promiscuous girls and homosexuals, among others.

The apology had been sought since July by a coalition of 17 social and professional groups, after the governor of Virginia issued a similar apology in the spring. Of the 33 states that sanctioned the sterilizations, Oregon ranked ninth in the number of victims, coalition spokesman Steve Weiss said. "I want to emphasize that this is your day," he told the surviving victims before Kitzhaber took the podium. "I hope it helps to heal some of the pain."

A spokeswoman for the gay and lesbian community said gay men were targeted because prevailing thought put them in the same category as rapists, child molesters and other sexual predators. "Acceptance and equality were not even considered as an official response," said the spokeswoman, Roey Thorpe, executive director of Basic Rights Oregon.

Sterilizations were legally authorized at Fairview, then named the State Institution for the Feeble-Minded, after the Oregon Legislature formed the State Board of Eugenics in 1923. Oregon took a tougher line than many other states, often preferring castration over vasectomies. At least one woman died while recovering from a hysterectomy. Until reforms in 1967, sterilization often was used as a condition of release from state institutions. The Board of Eugenics was abolished in 1983 — a move supported by Kitzhaber, who was a Roseburg senator at the time.

Not all the surviving victims present Monday were satisfied with the apology. "I want more than an apology," said Ken Newman, 61, who as a teenager was given a vasectomy at Fairview after he was pulled from a square dance to sign what he thought were his release papers. "I would like to be compensated money-wise." Newman met his wife, Shirley, at Fairview, and the couple married in 1970. Now 64, she was sterilized at age 19. But Newman said he can't find a lawyer to handle the case. "Everyone that we talk to, they want to sweep it under the rug," he said. Weiss said the desire for monetary relief is common among victims, but he said reparations would be a long shot in the current economic climate. "Ideally, I'd like to see it," he said, "but we're not in ideal conditions."

Laurence M. Cruz can be reached at (503) 399-6716.