---
Biography
---
Henry George Grabenhorst lived for one hundred years. During his long and productive lifetime he experienced many changes. He married three times and had seven children, eighteen grandchildren, forty-one great-grandchildren and numerous great-great grandchildren. He left a legacy of respect for family and the value of hard work.
Part 1
Germany: Watzum and the farm Ackerhöf ASS Nr 44
Henry George Grabenhorst was born Heinrich Georg Grabenhorst on 17 March 1799 in the village of Watzum in the Brunswick area of northwestern Germany. He was the son of Hans Heinrich Gravenhorst and Dorothea Sabine Heinemann.
Watzum Church Book Birth Record
Heinrich Georg Grabenhorst
His father, Hans Heinrich, was a younger son of Johann Jacob Gravenhorst. Johann Jacob was the owner of a large farm, Ackerhöf ASS Nr 44, in Watzum. Johann Jacob became owner of the farm sometime after his marriage to Anna Sophia Barbara Borchers when it was transferred to him by her father, Ludolf Borchers. (For additional information on Johann Jacob and the farm see the section on the Ackerhöf ASS Nr 44). As a younger son Hans Heinrich did not stand to inherit the farm so he became a tradesman. In the church records of the time, his occupation is given as "garnhändler" or yarn dealer. He is also listed as a "Häusling" or person with no farm or house of his own. People in that period of time in Brunswick did not usually own property outright but instead leased it from the Lord of the Estate who was a member of the nobility.
Henry George's mother was Dorothea Sabine Heinemann. Her father, Lüddeke Heinemann, was a "Kothsaß" or owner of a small farm from Gevensleben, a village about 4 miles from Watzum. Her mother was Elizabeth Müller, whose family lived in Veltheim, another near-by village. Dorothea Sabine Heinemann and Hans Heinrich Gravenhorst were married 17 January 1785 at her parent's farm.
In April of 1811 Hans Heinrich died. He left behind his widow, a 16 year old daughter, Marie Hedwig, and 12 year old Henry George. After his father's death, Henry George went to work on a farm, probably the family farm Ackerhöf ASS Nr 44 now owned by his uncle, Johann Ludolf or Ludwig as he preferred to be called. Hans Heinrich's death occurred during a period of upheaval in Watzum and the surrounding area due to the Napoleonic War. From 1806 to 1813, Brunswick was under French rule and the inhabitants suffered the hardships of occupation including conscription and tax levies to finance the war. The farmers were required to furnish teams to carry away the stricken soldiers from the battlefields and Henry George worked on one of the teams conveying the wounded to the rear of the army.
It was during these difficult times that the Grabenhorsts also lost possession of the family farm Ackerhöf ASS Nr 44. In 1808 Ludwig's daughter, Maria Elizabeth, married Heinrich Hennig Eppers. Facing increasing debt, Ludwig transferred the Ackerhöf Ass Nr 44, not to his older son as was the custom, but to his oldest daughter and her husband. Heinrich Hennig Eppers. Henry Eppers was the owner of a medium sized farm and the combining of the two farms was an attempt to gain some economic stability. Unfortunately, two years later, in May 1810, Maria Elizabeth died childless at age 21. In 1813 Heinrich Hennig Eppers married again and in that way the Ackerhöf Ass Nr 44 passed from the Grabenhorst family to the Eppers family.
Part 2
Germany: Marriage and Children
After leaving the farm, Henry George moved to Klein Vahlberg and became apprenticed as a tailor. In 1827 he received his certificate as a master tailor after completing his apprenticeship and journeyman programs:
The tailor journeyman Meinr. Georg Grabenhorst, born on the 17th of March 1799 at Watzum, who has proven that he has properly learned the tailor's trade, afterwards for 12 years has worked as a journeyman in this country and both as apprentice and journeyman has conducted himself honestly and blamelessly; has demonstrated this day his master piece before the tailor's guild, and the same after a thorough examination having been good and unobjectionable, the above named Grabenhorst has been received as a master into this tailors' guild and has been given the present master letter in accordance with the regulations of the guild ruling of the 19th of October 1821.
Schoeppenstedt, the 14th of Sept. 1827
Braunschweig-Lueneburg County Clerk
On 30 September 1827, two weeks after receiving his master tailor certificate, Henry George married Johanne Rosine Henriette Waupke, daughter of Johann Andreas Waupke and Johanne Lucie Elizabeth Juliane Papein Klein Vahlberg. Germany. Johanne Rosine Henriette and Henry George had four children:
Johann Heinrich Andreas (John Andrew) Grabenhorst was born two years before his parents' marriage on 10 May 1825 in Klein Vahlberg, Braunschweig, Germany Although Andrew was the son of Henry George, it is probable his parents had to wait to marry for economic reasons given they were married only two weeks after Henry George became certified as a master tailor.
Andrew's exact date of death is unknown. It can be speculated that he died between 1900 when he was listed in the 1900 census for Chester County, Pennsylvania and 1907 when Pennsylvania began keeping statewide death records. Andrew's name is not listed in the statewide death records.
Twins Heinrich Friedrich Grabenhorst and Katharina Marie Grabenhorst were born on 8 Feb 1828 in Klein Vahlberg, Braunschweig, Germany. Neither survived infancy. Heinrich Friedrich died on 3 Apr 1828 at age 2 months and Katharina died on 30 Jul 1829 at age 17 months.
Heinrich Christian (Henry Christian) Grabenhorst was born on 21 Nov 1829 in Klein Vahlberg, Braunschweig, Germany and died on 16 Dec 1922 in Salem, Marion, Oregon at age 93.
On 17 June 1831 Johanne Rosine Henriette Waupke died at age 31 years, 6 months because of a rupture. Henry George was left with two small sons, one 6 years old and one19 months old, to raise. He needed to marry again quickly to care for his sons.
On 30 September 1831, 3 months after Johanne Rosine Henriette's death, he married Anna Marie Juliane Maseberg, daughter of Johann Carl Maseberg and Anne Dorothea Fricke in Uehrde, Braunschweig, Germany. In what was an unusual move for that time in Germany, Henry George and Anna Marie Juliane were divorced. The reason for the divorce is unknown. It is known that a child, Johann Friedrich Andreas, was recorded in the church books as having been born to Anna Marie Juliane Maseberg and Heinrich Georg Grabenhorst five and a half months after their wedding on 9 Mar 1832 in Klein Vahlberg, Braunschweig, Germany. The little boy died one month later. One can speculate that perhaps this child was not the child of Henry George and thus the subsequent divorce. Whatever the reason for the divorce, this second marriage and the subsequent birth and death of the infant Johann Friedrich Andreas were not common knowledge to later generations of the family until the German researcher Walter Lehmann discovered it in the church record books. Henry George was always said to have been married twice, not three times as it turns out was the case.
Eight months after his marriage to Anna Marie Juliane Maseberg and two weeks after the death of the child, Johann Friedrich Andreas, Henry George married Anna Dorothea Elizabeth Neddemeier on 27 Apr 1832 in Wittmar, Braunschweig, Germany. In their marriage document he is listed as a divorced husband. Anna Dorothea Elizabeth was the daughter of a carpenter named Brandes from Kissenbruck and the widow Catharina Elizabeth Lohr Neddemeier. Illegitimate children born during this time in Germany were given the surname of their mother but their biological father was often listed on the birth record.
Church Book Birth Record
Anna Dorothea Elizabeth Neddemeier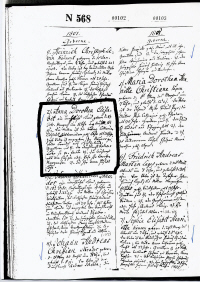 Later, after moving to America, Dorothea maiden name appeared as Brandes or Branders. Dorothea was born on 8 Feb 1807 in Gross Vahlberg, Germany, died on 20 Sep 1885 in Webster County, Iowa at age 78, and was buried in Dayton Cemetery, Webster, Iowa. Henry George and Dorothea had two children:

Dorothea Auguste Elizabeth (Dorothea) Grabenhorst was born on 11 Feb 1833 in Klein Vahlberg, Braunschweig, Germany and died on 3 Nov 1914 in Loraine Township, Henry, Illinois at age 81.

Heinrich Friedrich (Frederick) Grabenhorst was born on 27 Mar 1835 in Klein Vahlberg, Braunschweig, Germany, died on 1 Mar 1927 in Bluff Creek, Monroe, Iowa at age 91.

In the ensuing years, Henry George and his family stayed in the same general area of Brunswick where they had been born and raised although they lived in several different villages. At the time of his wedding to Dorothea in 1832, Henry George was living in Wittmar. T

here he worked as a tailor and baker.

In 1833 his daughter, Dorothea Auguste Elizabeth, was born in Klein Vahlberg and in 1835 his son, Heinrich Friedrich, was also born in Klein Vahlberg. In 1839 his son, Johann Henry Andreas, was confirmed in Wittmar. In 1847 his daughter, Dorothea Auguste Elizabeth, was confirmed in Klein Winnigstedt as was his son, Heinrich Friedrich, in 1849.

Like most Germans of that time, the Grabenhorsts belonged to the Lutheran Church.

While living in Klein Winnigstedt, Henry George's occupations were recorded as a landlord and a baker and, shortly before the family immigrated to America in 1850, as the owner of a pub.

Part 3
Immigration to America

From 1850 to 1859 nearly one million Germans immigrated to America lured by the stories of fertile land and opportunity. Henry George was one of them. He and his family left Klein Winnigstedt and traveled to Bremen where they boarded the ship Europe. They landed in New York on 27 May 1850.

The previous year on 10 September 1849, Henry George's son, Henry Christian, had left Klein Winnigstedt for America to check out whether or not immigration was feasible. Obviously things were to his liking because he sent word for the rest of the family to come. Henry George along with his wife Dorothea and children Andrew, Dorothea and Frederick followed Henry Christian to America where they began a new chapter in their lives.

Passenger Manifest
Name:

Grabenhorst, H
Grabenhorst, D
Grabenhorst, A
Grabenhorst, D
Grabenhorst, F


Date of Arrival:

27 May, 1850

Port of Arrival:

New York, New York

Age:

57, 43, 24, 17 ,15

Gender:

M, F, M, M, F

Marital Status:

M, M, S, S, S

Ship of Travel:

Europe

Port of Departure:

Bremen, Germany
Part 4
Pennsylvania and Illinois
After landing in New York, Henry George, Dorothea, Andrew, Dorothea and Frederick joined Henry Christian in Chester County, Pennsylvania. Being industrious, they wasted no time getting jobs. In the 1850 census Henry George and Dorothea were living in East Vincent, Chester, Pennsylvania where he is working as a tailor. Twenty year old Henry Christian and twenty four year old Andrew were living in the household of Conrad Bode in East Vincent and working as laborers. Seventeen year old Dorothea was living in the household of Joseph Ebner in East Vincent and working as a servant. Fifteen year old Frederick was also working as a laborer in East Vincent and is listed in the household of Samuel Whitby and also in the household of John Hause.
Henry George did not want to pursue being a tailor in his new county. He started farming while in Pennsylvania but he was interested in owning his own farm. In 1855 he and Dorothea moved to Illinois, locating eight miles north of Chicago. His son, Frederick, accompanied them as did his daughter, Dorothea. It was in Illinois that his daughter Dorothea met and married her first husband, Jacob Fisher, and had her first son, Henry Fisher, who was born 10 July 1856.
Henry George was not satisfied with what he found in Illinois and he made the decision to move to Iowa. In the summer of 1855 he went to Webster County, Iowa, and filed on two parcels of land totaling 315.40 acres or just under a half-section (320 acres) northeast of what would become Dayton.
Iowa Land Filings

160 acres
155.40 acres
Part 5
Iowa
In the spring of 1856 Henry George, Dorothea, their son Frederick and their daughter Dorothea and her husband, Jacob Fisher, moved into a log house that was standing on the 315 acres he had filed on the summer before. In the 1856 Iowa State census Henry George, Dorothea, Frederick and Jacob and Dorothea Fisher are shown as residing and farming in Yell township, Webster, Iowa. At that point, Dayton did not exist. Their nearest post office was Homer, which was then the county seat of Webster County. Iowa City was their nearest market where they had to go for supplies. With the help of his son-in-law, Jacob Fisher, Henry George raised the first house in Dayton. In 1869 his daughter, Dorothea, was left a widow with six children when Jacob Fisher died. In 1871 Dorothea married Barnhardt Wolf and moved with her family to Henry County, Illinois. Henry George's son, Frederick, married Sarah Dougherty McDevitt and farmed his own land near Yell in Boone County, Iowa.
Henry George lived and farmed in Dayton for many years. In 1866 Henry George and Dorothea signed over the land to their son Henry Christian while maintaining a life time lease on the property. After Henry George's death, Henry Christian and his son, William, farmed the land until 1903 when the family moved to Oregon and it was sold.
Henry George's wife, Dorothea, died 20 September 1885 when Henry George was 86.
Obituary: Dayton Review September 25, 1885
DIED at the residence of W.H. Grabenhorst, Sunday, Sep. 20th, of Typhoid Pneumonia, Doratha, wife of Henry G. Grabenhorst, aged 78 years 6 months and 12 days. Mrs. Grabenhorst was born at Gr. Valdberg, Germany Feb 8th 1807 and came to America in 1850 and to Dayton twp, in 1857. She was a faithful member of the German Lutheran church and had belonged to it since 1821. Rev. V.P. Gosswiler conducted the funeral ceremony, which was attended by a very large number of friends and mourners.

CARD OF THANKS We would hereby return our most sincere thanks to our many friends who so kindly rendered assistance during our late bereavement.
H.G. Grabenhorst
H.C. Grabenhorst
W.H. Grabenhorst
In the Oldest Germans of Iowa from the 1895 Census, Henry George is listed as G.H. Grabenhorst age 96 residing in Des Moines Township, Polk County, Iowa. Henry George actively farmed his land until he was almost 97 when he became bedridden. Two years later he lost his eyesight but his mind remained sharp and clear until shortly before his death in May of 1899. Henry George was well respected in the Dayton area. When he turned 100 his life was celebrated by the community he had helped start and where he had made his home for forty five years.
Dayton Review News Article:
AN IOWA CENTENARIAN
Henry George Grabenhorst celebrated the 100th anniversary of his birth at his home in Dayton, Iowa, last Friday, and received the congratulations, best wishes and prayers of the people of the county where he has lived since 1855. Grandfather Grabenhorst was born in the village of Watzum, Braunschweig, Germany, on March 17, 1799. He spent his early boyhood in that place, but at the age of thirteen began to work on a farm near there, and to earn his own livelihood. During the French revolution the farmers were compelled to furnish teams for the carrying away of the sick, wounded and dead soldiers from the battlefields, and young Grabenhorst assisted in this work. Leaving the farm he went to work as a tailor and followed that occupation until 1850, when he came to this county and located on a farm in Chester County, Pennsylvania. Five years later he moved to Illinois and located eight miles north of Chicago, but still he was not satisfied with the country, and that summer came to Iowa. He located in Webster County in the summer of 1855, and entered the half section of government land northeast of Dayton, still known as the Grabenhorst place. The Dayton review says that there was no city of Dayton then, the nearest post office being Homer and the nearest market Iowa City, where they had to go for their provisions and supplies. Mr. Grabenhorst raised the first house in Dayton then, and might well be called the father of that thrifty little place. Mr. Grabenhorst has been married twice, both marriages being in Germany, where all of his children were born. His first wife died in Germany in 1831; the second wife came to this country with Mr. Grabenhorst and shared the vicissitudes of pioneer life with him until her death in 1885. Four children, three sons and a daughter, fifteen grandchildren and thirty great-grandchildren are still living. Mr. Grabenhorst is at present very feeble, having been confined to his bed for four years, but he is in hope of living to see the dawn of the new century. A little over two years ago he became blind, but retained a remarkable memory until about two months ago. His life has been a long and useful one, and in his old age he has the respect, love and sympathy of all who have known him or his good deeds.
Henry George died on 23 May 1899. He is buried in the Dayton Cemetery with his wife Dorothea.
---
Title Page and Web Site Sections
For questions or comments contact:

Stephany Smith
smithsg@heathsmith.com